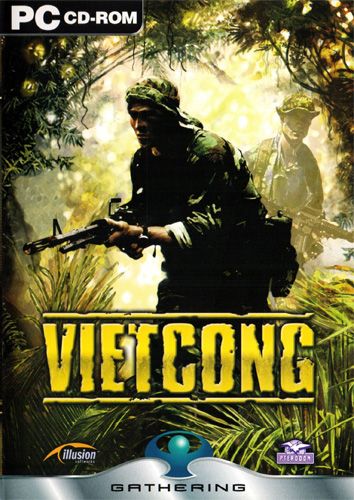 Experience the ultimate war experience with Vietcong: Computer Edition!
System requirements for the PC version
| Windows | |
| --- | --- |
| Minimum CPU Class Required | Intel Pentium III |
| Minimum OS Class Required | Windows 98, XP, Vista, 7, 10, 11 |
| Supported Systems/Models | x86 (32-bit) |
| Minimum RAM Required | 256 MB |
| Minimum DirectX Version Required | DirectX 8.1 |
| Minimum Video Memory Required | 16 MB |
| Video Modes Supported | Full screen, Window |
| Video Resolutions Supported | 1024×768, 640×480, 800×600 |
| Sound Capabilities | EAX |
| Input Devices Supported | Keyboard, Mouse |
| Multiplayer Options | Internet, LAN |
| Number of Offline Players | 1 Player |
| Number of Online Players | 2-64 Players |
FEATURES:
– Engage in over 20 thrilling missions for freedom.
– Utilize over 20 different realistic weapons to defend yourself successfully.
– Conquer your fear in an environment full of adversity and deadly traps.
– Fight in a squad of up to six men and utilize the skills of your comrades
– Infiltrate vast tunnel systems and strike the enemy at its core.
– Save your skin through requested airstrikes, evacuations, or precise intelligence on the enemy.
Utilize Jeeps, trucks, and patrol boats in this rugged land
Choose between the Vietcong or the US Marines to excel in intense multiplayer games
Vietcong – Fist Alpha Add-On Description
FEATURES:
– In seven new single-player missions, the FIST ALPHA team fights their way through the visually stunning Vietnamese highlands. There, you have to fight against both the Vietcong and the North Vietnamese troops.
– Defend your base until the last man!
Sneak through enemy minefields undetected! Locate and destroy key Vietcong weapon factories! Schalten Sie die feindliche Artillerie aus und retten Sie abgestürzte US-Piloten in Not!
– Engage in online battles on 8 new multiplayer maps.
– Once again, enter the deadly zone as a US or VC soldier – with breathtaking 64-player action, either over LAN or the Internet.
– Create new multiplayer missions with a brand-new level and campaign editor.
Fist Alpha is the official expansion pack for Vietcong.
"FIST ALPHA" – Your US Special Forces team is back in Vietnam, facing the deadliest enemy ever seen on a battlefield – the VIETCONG.
Immerse yourself in the chaos of the Vietnam War.
Immerse yourself in the turmoil of the Vietnam War and experience the thrill and excitement of an authentic battlefield with Vietcong: Computer Edition. This specially tailored version of the popular war game offers you an immersive gaming experience that plunges you directly into the heart of the conflict.
With stunning graphics and realistic sound design, you will feel like you're right in the middle of the jungle, surrounded by dense forests, winding rivers, and dangerous enemy troops. The Computer Edition of Vietcong allows you to step into the shoes of an American soldier or a Vietnamese guerrilla fighter and complete strategic missions that will push you to your limits.
The gripping single-player campaign of Vietcong: Computer Edition takes you through a variety of missions where you'll need to demonstrate your tactical prowess, combat skills, and teamwork. Utilize a wide range of authentic weapons to fight your way through enemy lines, conduct covert operations, and gather valuable intelligence.
However, Vietcong: Computer Edition doesn't just offer an impressive single-player experience. Dive into action-packed multiplayer battles where you can compete against other players from around the world. Coordinate with your team to capture strategic objectives or fight for survival in intense deathmatches. With a vibrant online community and regular updates, you will never run out of challenges and new content.
Harness the full power of your computer to experience Vietcong in an unprecedented quality. Optimized for the latest hardware, the Computer Edition of Vietcong offers stunning graphics, smooth frame rates, and an immersive gaming experience. Immerse yourself in the gripping story of the Vietnam War and become a part of this epic conflict.
So buckle up, soldier! The Computer Edition of Vietcong is waiting to be conquered by you. Face the dangers of the jungle, showcase your combat skills, and experience the thrill of one of the most brutal wars in history. Prepare yourself for an unforgettable adventure and secure your copy of Vietcong: Computer Edition today!